The Privy Council of Eagleia (or formally Her Majesty's Most Honorable Privy Council for Eagleia) is officially one the highest bodies of government in Eagleia. It is composed of the Council of Ministers of Eagleia, the Executive Councils of Eagleia's States and territories, and several other high officials. It is officially a private council of advisors to the Sovereign of Eagleia.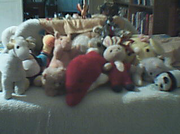 The Council, although it as a group does not actively carry out executive powers, it does officially have a wide range of executive powers.
Everyone who is a Member of the Privy Council of Eagleia is automatically styled 'The Honorable'. If they are a senior member of the Council, they are styled 'The Right Honorable'.
eagleawiki.co.cc/wiki/Template:Eagleia